TV and radio presenter Richard Bacon has told the BBC about the moment he was told he had to be put into a coma for at least a week.
The former Blue Peter contracted a lung infection and when he woke from the coma found out he nearly died.
He became ill during a flight from LA, where he now lives, to London. He told Luke Jones, from Radio 4's Broadcasting House, how he was treated at Lewisham Hospital.
The widespread use of opioids to treat pain frequently prompts concerns about addiction and even deaths. So, why are these sometimes dangerous drugs still being given to patients?
Much stronger than many of the other options, opioids are among the world's most commonly prescribed painkillers.
These drugs – including morphine, tramadol and fentanyl – are used to treat pain caused by everything from heart attacks to cancer.
But in the UK they were recently linked to the deaths of hundreds of elderly hospital patients, while the US is battling a well-documented opioid epidemic.
Why not just use other painkillers to avoid the risk of harm?
A worldwide problem
Opioids work by combining with receptors in the brain to reduce the sensation of pain – and they are highly effective.
However, opioid receptors are present in areas of the brain responsible for breath control and high doses can dangerously reduce the rate of breathing – the cause of almost all opioid deaths.
An inquiry into the UK's Gosport War Memorial Hospital said more than 450 people died between 1989 and 2000 from administration of "dangerous" amounts of opioids without medical justification.
In the US, the increasingly widespread prescription of opioids to treat long-term pain has led to an epidemic of addiction. In 2016, a record 11.5 million people in the US misused prescription opioids, and there were 42,249 deaths from overdoses.
In England, GPs prescribed 23.8 million opioid-based painkillers in 2017 – a rise of 10 million prescriptions since 2007. More than 2 million working-age people were thought to have taken a prescription painkiller that was not prescribed for them in 2016-17.
There were more than 2,000 deaths in England related to opioid overdose in 2016, the highest since records began. But unlike the US deaths, these largely related to heroin rather than forms of opioid available on prescription.
What are opioids?
A large group of drugs used mainly to treat pain
Includes naturally occurring chemicals like morphine and codeine, as well as synthetic drugs
Codeine, morphine and methadone are among opioids judged by the World Health Organization as essential for treatment of pain and end-of-life care
Some opioid medications – methadone and buprenorphine – are used to help people break their addictions to stronger opioids like heroin
Consistent relief
One of the reasons opioids are so widely used is that – when used correctly – they are a particularly useful form of painkiller. They can be given to patients in a variety of ways and in many different forms.
Morphine can be given orally or through injection; other opioids can be given through patches, lozenges or under-the-tongue tablets.
The Gosport report focused on syringe drivers, a method of delivering a drug under the skin, to provide a constant dose of an opioid for consistent pain relief.
This can be a useful form of pain relief at the end of someone's life as it means there is no reliance on the patient being able to swallow or absorb the drug. Syringe drivers also help doctors adjust dosage as necessary.
However, at Gosport War Memorial Hospital, syringe drivers were reportedly used when they weren't justified, or to deliver inappropriately high doses of opioid.
A distressing reaction
Despite their benefits, the problems associated with these medicines are clear.
For decades, scientists have tried to develop opioids that work without causing the problems of addiction and misuse.
Some have added extra ingredients deliberately to cause a distressing reaction. For example, added to opioid tablets, the antidote naloxone largely has no side-effects if the medication is taken orally, but causes severe "cold turkey" withdrawal symptoms if the tablet is crushed and injected by a dependent user.
Implants and slow-release injections which wear off over a much longer timeframe have also been investigated.
A particular problem occurs when the need for pain relief is long-term – when the evidence for the benefit of opioids is less clear.
In the US, one cause of the opioid epidemic is over-prescribing, particularly among those with long-term pain.
For people with acute pain, opioids can be used alongside other drugs – including commonplace painkillers like paracetamol, ibuprofen and aspirin.
When treating patients who are dying, meticulous assessments of the causes of pain are needed to understand the best way to improve it, while minimising potential side-effects.
For example, cancer patients with pain as a result of nerve damage caused by chemotherapy might first be treated with paracetamol and a tricyclic antidepressant.
If that doesn't help, or the patient is in more severe pain, opioids may be introduced – again, this is often in combination with other drugs.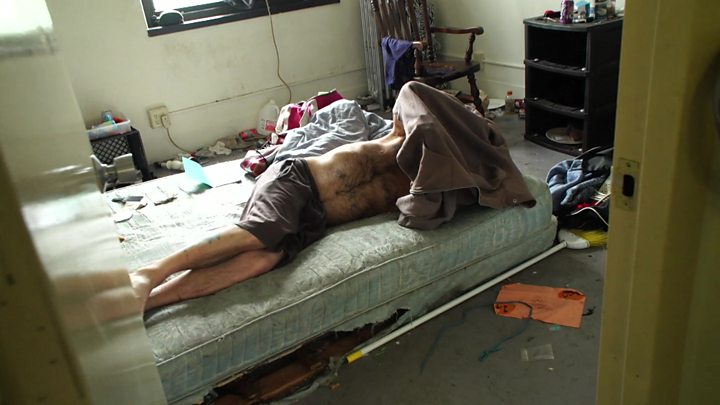 For people who are dying, opioids are very often the most effective way to relieve pain. Anywhere between 30% and 94% of people with advanced cancer are thought to experience pain and about half of cancer patients were prescribed an opioid in the last three months of their life.
If used appropriately, and used in amounts appropriate to patients' symptoms, opioids are not only safe, they are essential for good symptom control.
The events in Gosport and the addiction crisis in the United States have put the medical profession's use of opioids under intense scrutiny.
Better education and training might be one way to make sure they are used appropriately for those who might benefit, so that potential harms are avoided.
About this piece
This analysis piece was commissioned by the BBC from experts working for an outside organisation.
Dr Katherine Sleeman is a National Institute for Health Research clinician scientist and honorary consultant in palliative medicine at the Cicely Saunders Institute, King's College London.
Prof Sir John Strang is director of the National Addiction Centre at King's College London's Institute of Psychiatry, Psychology & Neuroscience. He has worked on ways to improve adherence to treatments and to reduce abuse of opioids, including joint work with the pharmaceutical industry, as well as the development of antidotes for overdoses. More details of his work can be found here.
Edited by Eleanor Lawrie
Seeing how NHS staff feel "undervalued" is "heartbreaking", the new Health Secretary Matt Hancock has said.
In his first speech since taking the job, Mr Hancock said he was horrified at the level of bullying reported by staff.
The British Medical Association welcomed the sentiment but said it needed to be underpinned by action.
Mr Hancock, the former digital and culture secretary, also pledged £487m for technology in the NHS.
'Tech transformation coming'
Of the money pledged, £412m will be used to improve technology in hospitals and to give more patients access to health services at home.
The remaining £75m will be put towards replacing paper systems with electronic ones – a move intended to reduce medication errors.
It comes after it was revealed last week that some hospitals are still reliant on fax machines.
Addressing staff at West Suffolk Hospital on Friday, Mr Hancock said: "Let this be clear: tech transformation is coming."
Mr Hancock also spoke about his love for the NHS, which he credited with saving his sister's life after she had a horse-riding accident.
Professional rider Emily Gilruth, 41, was in a coma for four days after she fell and hit her head while competing at Badminton Horse Trials in May last year.
Speaking publicly about the accident for the first time, Mr Hancock said: "Last summer my sister sustained a very severe head injury. It was touch and go and her life was saved by the intensive care unit at Bristol's Southmead Hospital, where she stayed for a week, most of it in a coma.
"Thanks to their care she has now recovered."
He added: "I love my sister and the NHS saved her life, so when I say I love the NHS, I really mean it."
Addressing NHS staff concerns, Mr Hancock pledged to champion the workforce and announced a consultation exercise on workforce issues.
The British Medical Association has previously said that GPs are leaving the profession at an increasing rate due to feeling undervalued, fuelling a crisis in the sector.
Mr Hancock also called for an end to the "over-prescription of unsophisticated drugs", focusing instead on approaches that address a person's physical and mental well-being.
'Sorely let down'
Shadow health secretary Jonathan Ashworth said patients would feel "sorely let down" that reducing waiting lists "isn't the first priority of the new health secretary".
"Investment in technology is welcome but years of Tory austerity has seen hospitals build up a £5bn repair backlog, resulting in clinicians nationwide using hundreds of pieces of equipment that are years out of date, as recently revealed by Labour.
"And commitments to prevention will ring hollow without reversing the substantial cuts to public health budgets, which are set to reach £800m by 2020/21."
Get news from the BBC in your inbox, each weekday morning
Mr Hancock takes on the job of health secretary as the NHS develops its 10-year plan.
Prime Minister Theresa May has pledged to increase health spending by £20bn a year in real terms by 2024.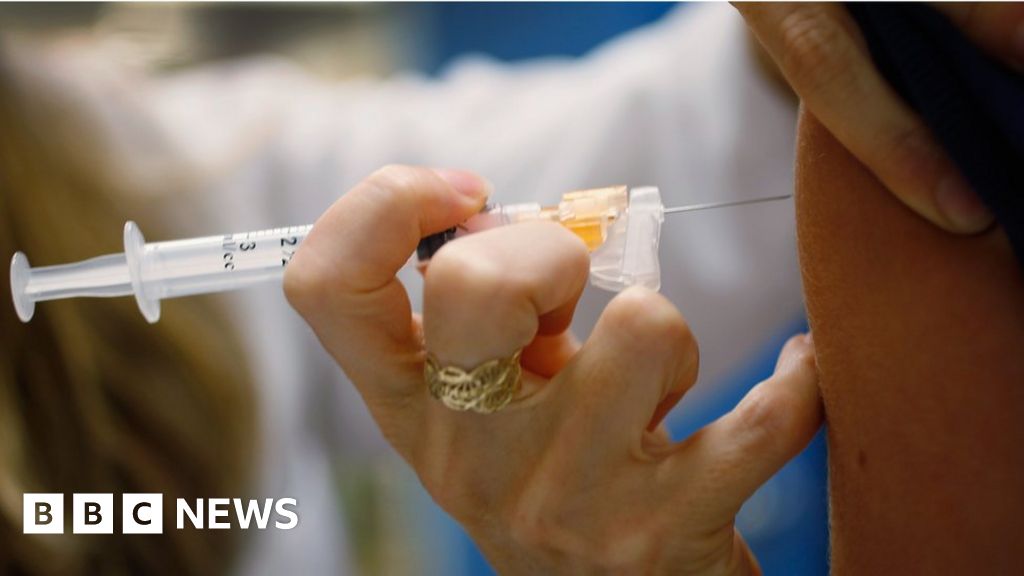 A jab that protects against a virus that causes cervical cancer should also be given to boys, an advisory committee has recommended.
The HPV vaccine is routinely offered to girls aged 12 to 13 at secondary school and is free up until they turn 18.
Now the Joint Committee on Vaccination and Immunisation has advised extending immunisation to adolescent boys at the same age as girls.
The Scottish and Welsh governments have now said they will vaccinate boys.
The Department of Health and Social Care in England said it would carefully consider the JCVI's advice and provide an update on its decision shortly.
Other health bodies welcomed the committee's recommendation, adding that boys had been insufficiently protected against HPV for "too long".
HPV is the name given to a large group of viruses, which can be caught through any kind of sexual contact with another person who already has it.
Doctors say most HPV infections go away by themselves, but sometimes infections can lead to a variety of serious problems.
For boys, this includes cancer of the anus, penis, mouth and throat.
The vaccine has been offered to girls since 2008 as part of the NHS childhood vaccination programme, with boys being said to benefit through herd protection.
But there is still a risk of infection in those who go on to have sex with other men or women who have not been vaccinated.
Campaigners have long since argued that offering the vaccine to boys would further reduce the risk of HPV infection, pointing to successful programmes in other countries.
'Cost-effective'
In July last year, the JCVI was criticised after it said in an interim statement that it could not recommend extension of the national HPV programme.
However, the committee's new report says a combined vaccination programme is "highly likely to be cost-effective".
Responding to the report, the Scottish and Welsh governments announced they would introduce an HPV vaccination programme for boys "as soon as practicable".
The Scottish government added that the age ranges of those to be vaccinated were still under consideration.
Public health bodies welcomed the JCVI's report.
The Royal Society for Public Health said it was "a victory for the public's health".
Its chief executive, Shirley Cramer, said: "Boys have been left insufficiently protected against HPV for too long and it is good news that the UK is following in the footsteps of the other 20 countries already vaccinating boys against HPV."
Prof Helen Stokes-Lampard, chair of The Royal College of GPs, also welcomed it, adding: "We hope parents will take up this important opportunity to get their sons and daughters vaccinated as soon as it is available to them."
The campaign group HPV Action called for the Department of Health and Social Care to accept the JCVI's findings and include boys in a vaccination programme "without further delay".
Taking omega-3 fish oil supplements is often touted as a simple way to protect your heart – but experts say the evidence that it does any good is flimsy at best.
Cochrane researchers looked at trials in over 100,000 people and found little proof that it prevented heart disease.
They say the chance of getting any meaningful benefit from taking omega-3 is one in 1,000.
Eating oily fish, however, can still be recommended as part of a healthy diet.
The review mainly looked at supplements rather than omega-3 from eating fish. Experts still believe the latter is good for the heart as well as general health.
The NHS says people should try to eat two portions of fish per week, one of which should be oily fish, such as salmon, fresh tuna or mackerel, to get enough "good" fats.
Omega-3
Omega-3 is a family of fats that includes:
ALA (alpha-linolenic acid) – which the body can't make for itself but is found in vegetable oils, nuts and seeds
EPA (eicosapentaenoic acid) and DHA (docosahexaenoic acid) – which the body can make from ALA but are also present in oily fish and fish oils, including cod liver oil
Some brands of milk, yoghurt, bread and spreads have extra omega-3 (usually ALA) added to them.
But when it comes to fish oil supplements, Cochrane lead author, Dr Lee Hooper, from the University of East Anglia, said: "We can be confident in the findings of this review which go against the popular belief that long-chain omega-3 supplements protect the heart.
"This large systematic review included information from many thousands of people over long periods.
"Despite all this information, we don't see protective effects.
"The review provides good evidence that taking long-chain omega-3 [fish oil, EPA or DHA] supplements does not benefit heart health or reduce our risk of stroke or death from any cause.
"The most trustworthy studies consistently showed little or no effect of long-chain omega-3 fats on cardiovascular health."
Some fish contain small amounts of chemicals that may be harmful if eaten in large amounts.
Shark, marlin and swordfish may contain small amounts of mercury and should be avoided by women who are pregnant or planning a baby and by all children under 16.
Other groups should eat no more than one portion of these fish each week.
Prof Tom Sanders, a nutrition expert at King's College London and honorary director of Heart UK, said: "Current dietary guidelines to prevent cardiovascular disease encourage fish consumption, rather than taking supplements.
"This study provides no evidence to suggest that this dietary advice should change."
Buy vegetables
Prof Tim Chico, a cardiologist from Sheffield University, said: "There was a period where people who had suffered a heart attack were prescribed these on the NHS. This stopped some years ago.
"Such supplements come with a significant cost, so my advice to anyone buying them in the hope that they reduce the risk of heart disease, I'd advise them to spend their money on vegetables instead."
Dr Carrie Ruxton, from the Health and Food Supplements Information Service, said early studies of omega-3 fats had found a protective benefit for the heart, but it wasn't always easy to pick up the modest effects of dietary change, particularly in older people on medication.
"For those who won't eat mackerel, salmon or herring, a daily fish oil supplement is a useful way of meeting recommendations," she said.
"Omega-3s are also used by the body to maintain the health of the eyes, immune function and brain so it's not all about the heart."
It's time to tackle over-eating from birth to make sure children get the best start in life, according to Public Health England.
It comes as government advisers publish new guidance – the first in more than 20 years – on feeding babies.
That report suggests three-quarters of UK babies and toddlers may be eating more calories than they should.
The same proportion weighed more than the ideal weight for their age, when plotted on growth charts.
The data comes from the Infant Feeding Survey and the Diet and Nutrition Survey of Infants and Young Children carried out in 2010 and 2011.
Public Health England says more up-to-date statistics are needed and is recommending the Department of Health and Social Care considers this.
Obesity
Experts know that people who are overweight as children are more likely to be overweight as adults.
A link with diet in early infancy is less clear.
Nearly a quarter of children in England are obese or overweight at four to five years old.
Part of the next phase of the government's plan to tackle childhood obesity includes examining whether baby food is healthy enough and whether it contains too much sugar.
The new infant feeding guidelines from the Scientific Advisory Committee on Nutrition (SACN) recommend:
Babies should be exclusively breastfed for around the first six months of life
Solid foods can be introduced at around six months
Cows' milk should not be given until 12 months
Avoid high sugar or high salt foods
Foods containing peanut and hens' eggs can be introduced at six months because delaying this might increase the risk of food allergy (but seek advice if there is a strong family history of food allergy)
Prof Mary Fewtrell, from the Royal College of Paediatrics and Child Health, said they noted the concerns raised and said the prevalence of overfeeding and overweight infants should be monitored and addressed.
Prof Louis Levy, head of nutrition science at PHE, said "exclusive breastfeeding until six months of age and not introducing solid foods until around this time" would help avoid infants becoming "too heavy".
"Further consideration is needed on ways to monitor overfeeding and overweight prevalence in infants, to help give them the best start in life," Dr Levy said.
A Department of Health and Social Care spokesperson said: "Children aged up to 2.5 years are assessed for healthy weight and nutrition during universal visits – delivered locally by health visitors – who are responsible for measuring and recording weight where there may be a concern.
"While there are currently no plans to reinstate the Infant Feeding Survey, we will consider the SACN report's findings."
Does your baby weigh more than the ideal weight for their age? Share your experiences by emailing haveyoursay@bbc.co.uk.
Please include a contact number if you are willing to speak to a BBC journalist. You can also contact us in the following ways:
Schools are not a "silver bullet" to tackle childhood obesity, the head of Ofsted has said in a report.
A study of 60 schools found no link between schools' efforts to tackle obesity and pupils' weight.
Factors outside the gates make it impossible for schools "to have a direct and measurable impact on children's weight", said chief schools inspector, Amanda Spielman.
Even so, they still have a vital role to play in fighting obesity, she added.
Ofsted looked at the approaches of a carefully selected group of 60 primary schools across England, to compare schools where pupil obesity was higher than in similar schools, with those where pupil obesity was relatively low.
The report looked at the measures schools were taking to tackle obesity and promote healthy lifestyles among pupils and parents, but found "no pattern to suggest that any intervention was related to higher or lower obesity".
In her commentary to the report, Ms Spielman said: "There is a broader temptation to look to schools to do more than educate.
"When faced with a worrying trend that threatens children's futures, there is an understandable desire to find ways to turn the tide.
"However, there is a risk that by focusing on activities other than education, schools neither reduce weight, increase health nor teach children what they need to know.
"The more we expect schools to become a catch-all for all societal ills, the more we distract them from their core purpose."
Ms Spielman urged families, government, industry and the public sector to increase efforts to make food and drink healthier and to help children make better choices.
She said it was important to "recognise that schools cannot provide a silver bullet for all societal ills".
"Teachers and school leaders are already stretched; they should not be held responsible for an issue that requires concerted action across the board."
Instead, schools should focus on delivering a curriculum that gives children "a solid body of knowledge about healthy living and the skill to pursue it," said Ms Spielman.
The report says schools should ensure pupils:
learn about the body in PE and science and about healthy eating and cooking
get enough physical exercise, including lots of opportunities to get out of breath
gain skills for life like cooking, a sport or dancing
In addition, parents need regular updates about pupils' physical development.
One in three UK children is now overweight or obese by the age of 11.
The government wants all primary schools to introduce a daily "active mile" for children to ensure they do 60 minutes of activity per day.
And last month ministers updated the Childhood Obesity Plan, with a ban on sweets and fatty snacks being sold at supermarket checkouts, as well as tighter restrictions on junk food ads.
Ali Oliver, chief executive of the Youth Sport Trust, said the report made clear the importance of physical education in schools.
"This report sends an important message about the opportunities schools must embrace, from introducing more physical activity in the school day to working more closely with parents," said Ms Oliver.
But the National Association of Head Teachers warned that the subject was being squeezed by funding cuts and excessive focus on exam results.
Geoff Barton, general secretary of the Association of School and College Leaders, said the union agreed that expectations of schools in terms of tackling childhood obesity must be realistic.
"Action is needed across society to find solutions to this complex and challenging issue," said Mr Barton.
Ancient Britons were eating dairy, peas, cabbage and oats, according to gunk trapped in their teeth.
Scientists analysed dental plaque found on the teeth of skeletons from the Iron Age to post-Medieval times.
They found evidence of milk proteins, cereals and plants, as well as an enzyme that aids digestion.
In modern samples, they found proteins that reflect a more cosmopolitan diet, including potatoes, soya and peanuts.
The research gives a picture of what people have been eating through the ages, including food that leaves no trace in the archaeological record.
Lead researcher, Dr Camilla Speller, from the department of archaeology at the University of York, said the technique can distinguish between different crops and show whether people were consuming dairy products, like milk or cheese.
Doing porridge
"In the teeth we look at from individuals who lived around the Victorian era, we identified proteins related to plant foods, including oats, peas and vegetables in the cabbage family," she said.
"Occasionally, we find evidence of milk and oats in the same mouth – I like to think it's from eating porridge!"
In the new study, published in the journal Proceedings of the Royal Society of London B, researchers analysed 100 archaeological samples from across England, as well as 14 samples from living dental patients and individuals who have recently died.
Dietary proteins were found in about one third of the analysed samples.
Proteins found in ancient dental plaque have already revealed that humans were drinking milk as far back as 6,500 BC.
Co-researcher Dr Jessica Hendy from the Department of Archaeology at the Max Planck Institute in Germany, added: "While there is still a lot we don't know, this is exciting because it shows that archaeological dental calculus harbours dietary information, including food products that ordinarily do not survive in archaeological sites."
A Canadian scientist's Youtube video about an all natural cancer-curing moss is a social media hit.
But it comes with a twist: the health claims in the video are revealed as completely false.
Jonathan Jarry, its creator, is a science communicator whose career focuses on debunking misinformation like the claims found in his viral video.
The video on the value of scepticism has racked up over nine million views.
Mr Jarry, with McGill University's Office for Science and Society (OSS) in Montreal, said he was inspired to make the video when a former co-worker sent him a Facebook post that claimed cancer could be cured by radio waves.
It was "rife with inaccuracies and omissions" and had been viewed online a whopping six million times, he said.
Evidence-based efforts by OSS, a venture dedicated to promoting critical thinking and the presentation of scientific information to the public, to debunk claims like the radio waves cancer cure theory get barely a fraction of those numbers.
"My idea was let's see if we can build a sort of a Trojan horse," Mr Jarry told the BBC.
"And make a video that looks on the outside superficially like one of these easily shareable videos."
He set about cobbling together a video with claims of an "amazing cancer cure" discovered by a Dr Johan R Tarjany in the 1800s that has long been suppressed by the pharmaceutical industry – a unique moss that can alter cancer's DNA.
With upbeat music, savvy editing and claims that sound like they have some scientific basis, he mimicked many viral health videos currently spreading misinformation online.
But halfway through Mr Jarry's video comes the big reveal: there is no Dr Johan R Tarjany and no cancer-curing moss.
It goes on to warn the viewer about how easy it is to get roped into false claims.
"The point is, be sceptical. Ask questions," it warns.
Health misinformation is a serious concern for public health agencies worldwide.
In April, Cancer Research UK warned that belief in fake causes of cancer is rife among the public.
In the US, the Food and Drug Administration offers online guides to protect consumers from products claiming to cure cancer online and on social media.
Mr Jarry sees many of the health hoax videos like the one he parodied online and "they spread like wildfire."
"We do have to learn to recognise these bad arguments for what they are," he said.
"They're an appeal to our emotions, to our superficial level of thinking, but they are empty on the inside."
He sees a danger in people potentially delaying medical treatment in favour of the alternative cures on the belief they will work better than modern medicine, or simply spending money on unhelpful treatments.
And he says he is "flabbergasted" at how popular his video turned out to be. He had hoped for a meagre 10,000 shares.
A girl whose brain was starved of oxygen before her birth at a hospital has been awarded more than £15m in damages from the NHS.
Holly Greenhow, 12, has had cerebral palsy since she was born at Hinchingbrooke Hospital in 2005.
Her family's lawyers sued the NHS trust which runs the hospital in a battle to help Holly "live independently" in the future.
The High Court approved a £6.4m lump sum and further annual payments.
Alex Antelme QC, for North West Anglia NHS Foundation Trust, told the court it was a "tragic case" and the impact on Holly was "self-evident".
Judge David Pittaway QC awarded the "appropriate" settlement at the court last week, which lawyers said had a lifetime value of £15,480,000.
Stem cell treatment
Holly was born at the hospital near her home in Huntingdon, Cambridgeshire, on 18 November 2005 and diagnosed with cerebral palsy, leaving her with communication issues and other disabilities.
Despite that, she has modelled for fashion retailers Boden and Tesco, which her mother, Fiona Greenhow, said "gives her an opportunity to do something different".
Last year her family paid £10,000 for pioneering stem cell treatment in the US, which Mrs Greenhow said had made a "huge improvement" to Holly's life.
The trust has agreed to pay Holly a £6.4m lump sum, along with annual payments to cover the costs of her care for life.
Those payments, agreed on the basis of 75% liability, will start at £110,000 a year and rise to £200,000 a year after she turns 19.
The £15m figure is based on Holly living to aged 60, her mother said.
Dr Kanchan Rege, medical director at the trust, said: "We can confirm that the court has recently approved a settlement relating to a long-running case involving a birth injury at Hinchingbrooke Hospital.
"The care received was investigated in detail but due to patient confidentiality we are unable to provide further information about the case."
Speaking after the High Court decision, Mrs Greenhow said it was "quite a surreal feeling" the case was concluded after 12 years.
However, she added: "No amount of money or apology will ever bring back what we should have had with Holly."
Parents are being warned about potentially toxic levels of chemicals in slime toys popular with children.
The consumer group Which? tested 11 of the most popular products on the market and found eight of them had above the recommended levels of boron.
The chemical is found in borax, a common ingredient in slime that helps to create its stickiness.
Exposure to excessive levels of boron can cause irritation, diarrhoea, vomiting and cramps.
Which? has passed its findings on to the Office for Product Safety and Standards.
It said there needed to be better regulation of the market, as many slimes had minimal safety labelling or information on ingredients.
'Peace of mind'
Which? director of research Nikki Stopford said: "If you have school-age kids, you're probably very well aware of the latest slime craze sweeping the playgrounds. Kids love it.
"Parents buying slime for their children should have peace of mind that these toys are safe, so they will be shocked to find that the health of their children could be put at risk by these slimes.
"There must be fundamental changes to the product safety system.
"Manufacturers must stop making unsafe products and the government and retailers simply have to do a far better job of getting anything identified as a risk off the shelves and out of people's homes".
The products found with above the recommended 300mg/kg level of boron were:
Jupiter Juice (pink) by Toysmith
Fluffy Slime (pink) by CCINEE
Crystal Slime Magic Clay (pink) by Cosoro Dodolu
Mini Bucket Putty (green) by Baker Ross
Slime Toy (purple) by iBase Toy
Fluffy Slime (blue) by LOYO
Brezeh Free Slime Toy (orange) by Brezeh
My Fluffy Slime (green) by Virtuotrade
All of them were sold by Amazon.
The company told Which? it had removed the products that had failed the tests from sale.
Amazon was unable to provide a comment to the BBC.
Which? said people who had bought the products should be entitled to a refund and should stop using the product.
And the group warned parents whose children were making "homemade" slime that they should also be careful.
This is because some ingredients listed for slime, such as contact lens solution, contain borax and often slime recipes do not list the quantities that need to be added.
Should we or shouldn't we be allowed to modify human DNA in future children?
An inquiry into the ethical issues surrounding genetically altering a human embryo has found there is "no absolute reason not to pursue it".
But appropriate measures must be put in place before it becomes UK law, said the report – which calls for further research both medically and socially.
Inquiry chair, Prof Karen Yeung, said: "The implications for society are extensive, profound and long-term."
The use of genome editing in embryos for assisted reproduction in humans is currently prohibited by UK law, but is permitted in some research. Scientists can do gene editing on discarded IVF embryos, as long as they are destroyed immediately afterwards, for example.
Heritable genome editing could be used to wipe out genetic diseases in certain families by deleting or permanently changing any troublesome code in embryos, or the sperm and egg.
But the field is attracting controversy over concerns it is opening the door to designer babies.
Commenting on the Nuffield Council of Bioethics' review of genome editing, Dr David King, Director of Human Genetics Alert, said: "This is an absolute disgrace. We have had international bans on eugenic genetic engineering for 30 years. But this group of scientists thinks it knows better, even though there is absolutely no medical benefit to this whatever. The Nuffield Council doesn't even bother to say no to outright designer babies. The people of Britain decided 15 years ago that they don't want GM food. Do you suppose they want GM babies?"
The independent inquiry by the Nuffield Council concludes that any invention should be guided by two key principles:
the welfare of the future individual
the welfare of society
The Council stated that the use of heritable genome editing "should not increase disadvantage, discrimination or division in society".
Sally Philips: A World Without Down's Syndrome
First gene editing in human body attempt
Director of the Nuffield Council Hugh Whittall said consideration needed to be given to groups whose conditions might be "edited out" of the population by the removal of a genetic variant.
The Council have called for a broad and inclusive societal debate, with as many voices as possible heard.
How it's done
CRISPR, a biological system for altering DNA, was discovered in 2012.
It can be used by scientists to make precise changes to DNA.
CRISPR scans the genome looking for the right location and then uses the Cas9 protein as molecular scissors to snip through the DNA.
Scientists have been using it in the lab to target and cut out faulty DNA in human cells that cause illnesses.
While effective, the process is less than perfect and can cut out too much DNA, experts have found.
These unwanted or 'off-target' edits could, theoretically, alter other important genes – inadvertently triggering cancer, for example.
In the near future, it might be possible to correct the DNA of embryos carrying the gene for Huntington's disease or cystic fibrosis.
But arguably, the most controversial aspect of gene editing concerns the potential to introduce changes to the germline – DNA alterations that would pass down the generations.
The Council also recommended further research to be carried out "to establish standards of clinical safety".
A recent study by scientists at the Wellcome Sanger Institute, suggests the CRISPR/Cas9 gene editing can cause greater genetic damage in cells than previously thought, and advised gene therapy scientists to proceed "with caution".
Speaking to reporters on Monday, members of the Nuffield Council working group were clear that the science still had "some way to go" and said it could be up to 20 years before heritable genome editing becomes a feasible option.
"It is important to stress that there is still great uncertainty over what genome editing may be able to achieve," said Prof Yeung, Professor of Law, Ethics and Informatics at the University of Birmingham.
Even once legalised, the Council have recommended genome editing should only be licensed on a case-by-case basis and under strict regulation and monitoring.
"No change will happen overnight," said Mr Whittall
"This report is not a full stop. It plays into an ongoing – and international – discussion."